Welcome to RhacHouse.com, your premier source for the finest Rhacodactylus auriculatus available.
RhacHouse is a husband and wife team with more than twenty years' experience in reptile husbandry. We specialize in the selective breeding of high quality Gargoyle Geckos (R. auriculatus) also sometimes called the Knob-headed Giant Gecko or the New Caledonian Bumpy Gecko. Their calm temperament, wide range of patterns and colors mixed with the simplicity of their care make them a perfect gecko for beginners and advanced keepers alike.
Our founding stock was hand picked and paired with special considerations for disposition, size, color, form and pattern. We've taken considerable care to diversify our colony with multiple bloodlines for those interested in obtaining unrelated animals. With this diversity we can proudly say we offer one of the largest selections of colors and patterns available in gargoyles.
In our opinion, the potential for breeding ourtageous designer gargoyles is limitless. Over the last several years we've had tremendous success at reproducing some of the traits we find most desirable. In the years to come, we hope to refine these traits in order to offer some of the most beautiful an unique gargoyles available.
RhacHouse works with other New Calidonian geckos as well. The Mossy Prehensile Tailed Gecko (Minarogekko chahoua), which can be described in one word—personality, and the Crested Gecko (Correlophus ciliatus).

We also work with several other fine gecko species including C. verigatus, P. pictus, P. androyensis, S. taenicauda, N. amyae and P. rugosus. We offer full care and support for the life of any animal purchased from RhacHouse. If you need asistance or have any care questions, we are always more than happy to help.
Paul and Lee Morlock
Please like us on facebook!
Fauna Board Of Inquiry search for RhacHouse.
Thank you for all the good words!
Revision of the giant geckos of New Caledonia, genus of Rhacodactylus.
AARON M. BAUER1,4, TODD R. JACKMAN1, ROSS A. SADLIER2 & ANTHONY H. WHITAKER3
Download here.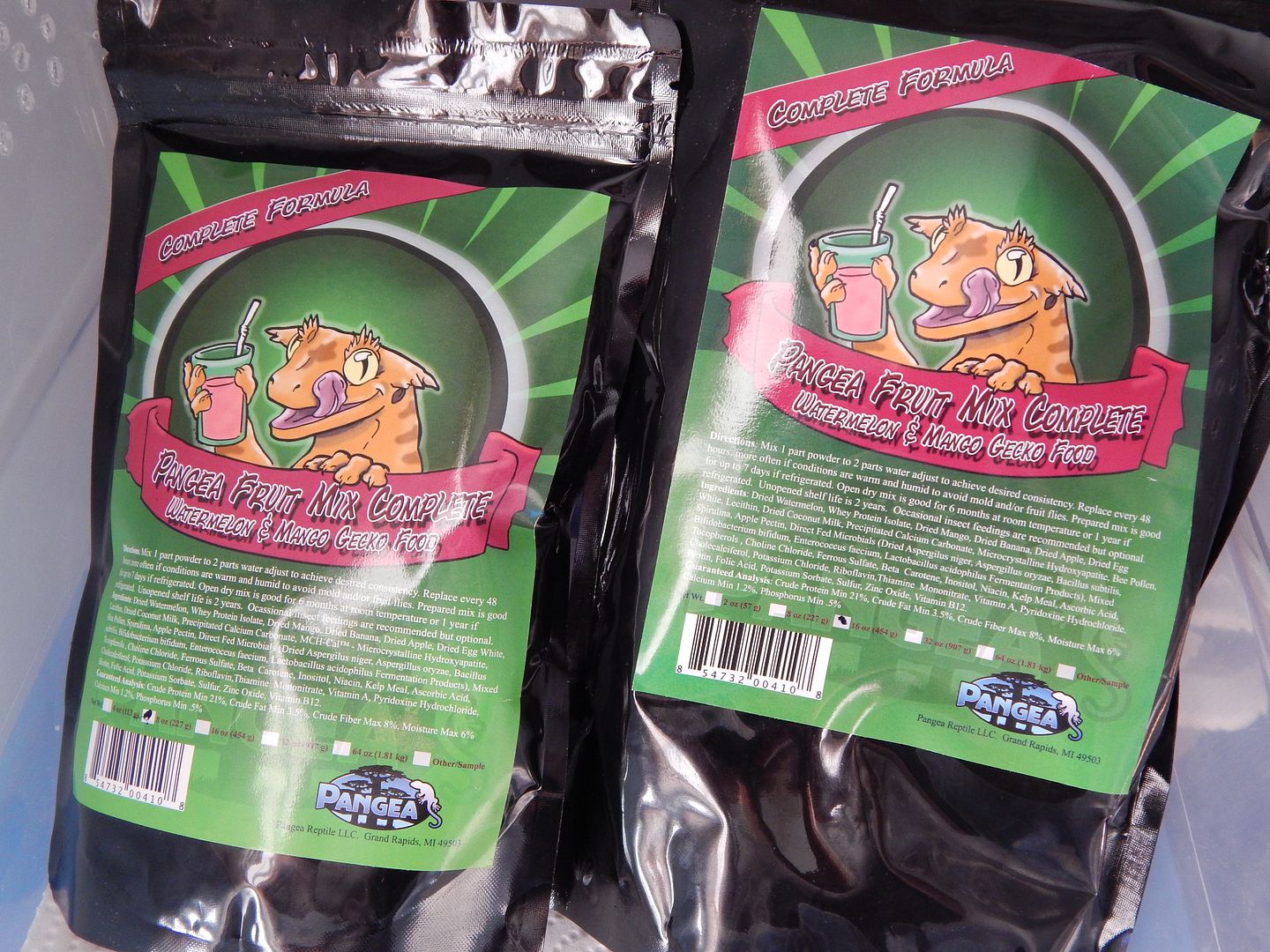 Pangea Fruit Mix Complete is here!!!
For now we are only stocking the 8oz and 16oz bags in both the watermelon-mango and the new banana-papaya. Please contact me if your interested in the other sizes.
Currently on sale!
8oz - $14.39, regularly $17.99
16oz - $27.99, regularly $34.99

Get them at the shows and save the shipping!
2013 and 2014 Scheduled shows:

NY Metro Reptile Expo White Plains, NY
Jan, 5, 2014
Feb. 9, 2014
April 6, 2014
July 6, 2014
Sept. 7, 2014
Nov. 1, 2014

Northwestern Berks Reptile Show
Hamburg, PA
Dec. 7, 2013

Feb. 22, 2014
April 26, 2014
June 14, 2014
Aug, 2, 2014
Oct, 18, 2014
Dec. 6, 2014


Eastern Herpetological Expo
Hatfield, Pa


Hudson Valley Reptile Expo
Poughkeepsie, NY
Feb. 16, 2014


New Jersey Reptile and Pet Expo
Teaneck, NJ